Selected Specific Expert Witness Experience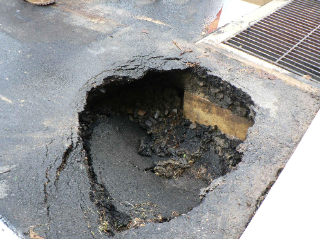 "Your report was well-constructed with excellent attention to detail . . . very strong, yet such that a lay person could fully comprehend it."
(Senior Defense Litigation Partner)
"I appreci

a

ted your attention to and response to all of my requirements . . . You did a

g

ood job of managing cost in light of the services needed - it was a good balance . . . Your timeline for providing services was also very good."
(Senior Defense Attorney for major, complex case)
Sinkhole That Formed Two Days After Chuck Dutill Warned Facility to No Longer Park 15-Passenger Van Here Due to Risk of Sinkhole Formation at the Stormwater Sewer
(Past Heritage Expert Witness Case in Philadelphia Area)
Backup of Wastewater into Garage that Damaged Many Cars
(Past Heritage Expert Witness Case in Atlanta)
Sanitary Sewage, Stormwater, Overflows, Groundwater
Flooding, Stormwater, Drainage, Erosion, Sedimentation
Septic System, Sanitary Sewage, Mold
Backups, Maintenance, Sa

n

itary Sewage, Inspections
Wastewater Treatment, Overflows, Storage
Sewer System, Backups, Health and Safety
Overflows, Pumping, Regulations, Sewer Systems
Drainage, Grading, Detention Basin, Flooding
Hydrology, Combined Sewers, Piping Systems, Floodplain, Hydraulics
Erosion, Sedimentation, Surface Water
Hydrology, Grading, Sinkhole, Stormwater Management
Hydroplaning, Hydrology, Runoff
Infiltration/Inflow, Mold, Sanitary Sewers, Rainfall Analysis
Flooding, Hydraulics, Floodplain, Standard of Care
Wastewater Treatment, Pressures
Contamination, Potable Water, Septic System
Water Wells, Toxicity, Groundwater, Modeling, Hydrogeology
Septic System, Surface Water
Groundwater, Aquifer, Hydrogeology, Spills
Wetlands, Drainage, Runoff, Siltation, Erosion, Grading
Wastewater Discharge, Air Quality, Soils
Hydrology, Flow Metering (monitoring), Combined Sewers, Design, Construction
Flooding, Detention, Piping, Maintenance, Inspection, Design, Construction, Sinkhole, Dam, Sedimentation
Wastewater, Pumps, Monitoring, Odors
Air Pollution, Aquifer, Modeling, Toxicity, Soils, Hydrogeology
Hazardous Waste, Storage, Regulations, Pollution
Hazardous Waste, Remediation
Water Quality, Drinking Water
The following is a representative sample of the expert witness experience of Chuck Dutill, P.E., D.F.E. of Heritage Technical Services:
1240 West Chester Pike, Suite 213
West Chester, PA 19382-9100